Spots dynamic support & resistance levels using the TEMA indicator in MT4. Best for trend-following Buy-Sell signals on MTF charts. Suits all trading strategies.
The TEMA Indicator is a trend-following MT4 indicator. It applies a Triple Exponential Moving Average to anticipate bullish/bearish market conditions. Technically, TEMA is faster and smoother than simple moving averages. The indicator is highly sensitive to recent price-action changes. It enables the tool to generate instant buy-sell signals based on current trend conditions.
Moreover, the indicator perfectly suits all timeframes of the MetaTrader 4 platform. Although, if you're looking for pullback trading signals in forex and stocks, M30 to H4 charts can be a great match. This guide will teach how to apply the Indicator trend signals to spot profitable buy-sell opportunities in MT4.
How to identify potential trading signals using the TEMA MT4 indicator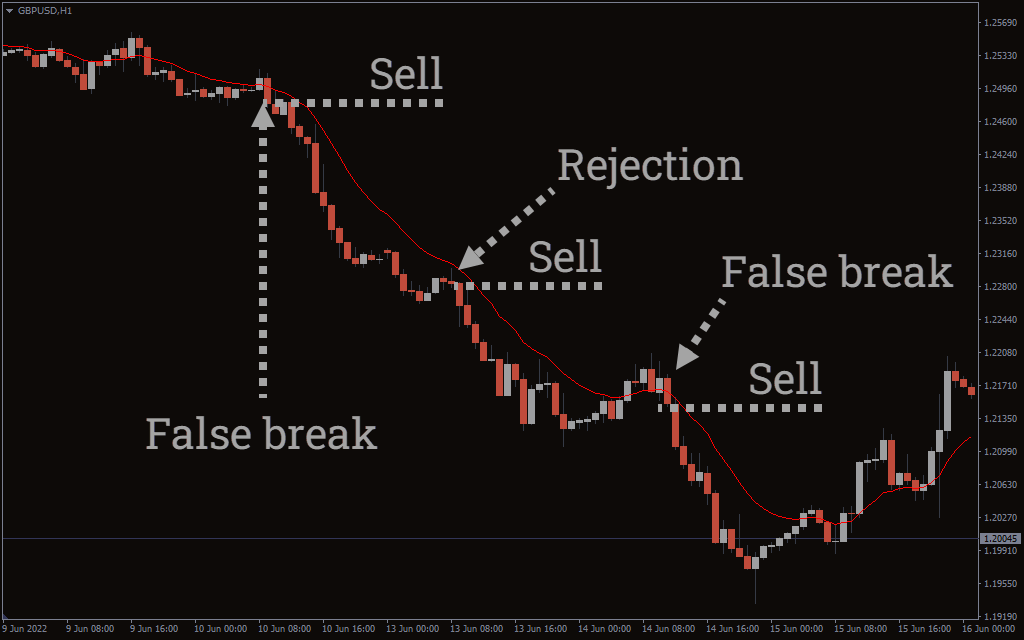 The indicator enables you to look for multiple trading options of the same asset on MTF charts. For instance, you can use it to track pullback trade signals during on-trend market conditions. Also, you can spot breakout trade signals based on its trend reversal signals.
The price holds above the indicator support during a bullish market trend. In bearish markets, the price remains below the indicator line and treats the level as resistance.
In the above GBPUSD chart, the price failed to exceed the TEMA level several times, especially after the market initiated the long-term bearish trend. Each time the price plot a rejection or false break near the TEMA line produced a perfect sell opportunity. Furthermore, you can use the TEMA indicator to assess trade exit positions and trailing stop-loss levels.
Conclusion
The TEMA MT4 indicator offers the best trend-following buy-sell signals for forex and stock day/intraday traders. It is simple to use and comprises easy rules for identifying bullish/bearish market trends. Beginners looking for fast and effective moving average indicators may find the TEMA extremely useful.